MAKE YOUR MARK notebooks have been attentively designed and crafted to encourage and inspire women as they walk the sometimes long, sometimes discouraging road to success. I want to see more women follow their passion, be more creative and innovative in their lives, feel more confident and determined in their endeavours and maintain a kind heart on that journey

KASIA GOSPOS, AUTHOR OF MAKE YOUR MARK
Every page of the notebook has been infused with quotes, thoughts and assignments to stimulate a new way of thinking. As you use the notebook daily and focus on each quality chapter by chapter, the traits become habits. MAKE YOUR MARK is your business, career and life coach rolled into a compact, beautifully designed notebook.
Buy now
MANIFESTO
The MAKE YOUR MARK notebook was inspired by the Leaders in Heels Manifesto, which outlines the six leadership traits of successful women: passion, creativity, innovation, confidence, determination and kindness.
FEATURES
Six distinctively designed chapters for each leadership trait

Thoughts and assignments in each chapter to grow those traits
Buy now
Inspirational quotes to encourage and provide food for thought

Blank and lined pages to doodle and journal, record thoughts and ideas, set goals, and plan to make your mark!
Buy now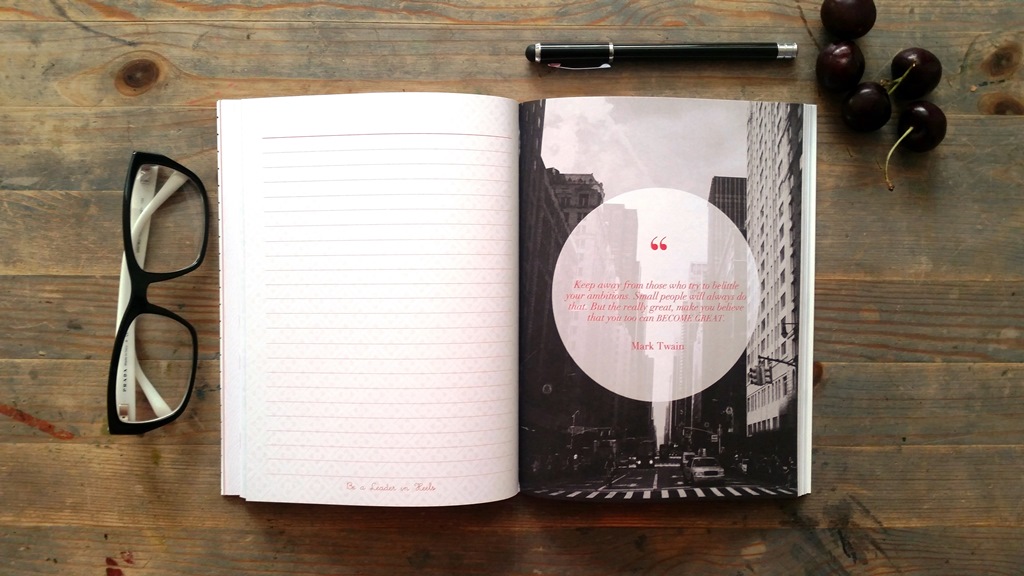 Smooth, 100gsm paper that's a pleasure to write on
Elegant and discreet cover design that's never out of place, no matter the situation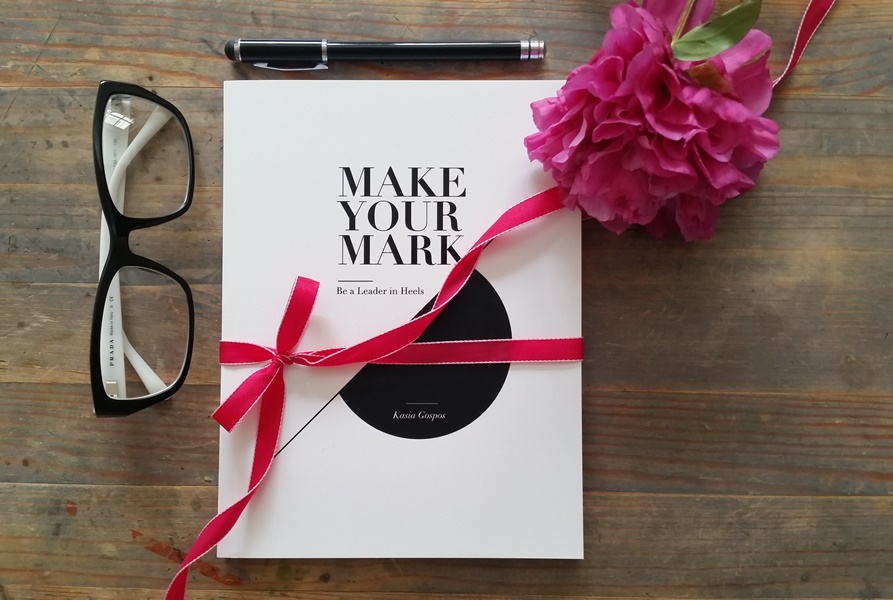 Beautiful gift to inspire and empower the women around you!
Make Your Mark
AS SEEN ON
Background
MAKE YOUR MARK is an everyday notebook with a simple goal in mind – to unleash a remarkable leader in every woman on Earth
6 years ago I came to Australia, working as a Management Accountant in the mining industry. I quickly noticed that there were strong powerful female leaders in Australia …as well as women who were lacking confidence, afraid to articulate their career aspirations.
New to the country and overwhelmed with the variety of cultures I started interviewing senior women to connect with them, develop leadership skills and then share the experiences with other women. 'Leaders in Heels' was born.
What started as a humble blog in 2011 it now reaches 50,000 page views per month and have over 20,000 social followers run by 10 amazing people and over 30 regular contributors.
After 3 years through Leaders in Heels we have interviewed hundreds of women from a cross section of industries and over 500 articles have been published on leadership, success, career and entrepreneurship. In September 2014 I created "50|50 Future Leaders" event promoting new modern approach to management and leadership through diversity. I have also attended over 100 networking, charity and educational events and workshops for women.
While I have been passionately observing women who make their mark in both corporate and entrepreneurial sphere I realised that there were common traits that they all used and shared in their careers. They were passionate, creative, innovative, confident, determined and kind! These traits are now part of the Leaders in Heels Manifesto.
The notebook MAKE YOUR MARK brings to life the Leaders in Heels Manifesto
The Leaders in Heels Manifesto represents six leadership traits of future female leaders and is a mix of my personal observations, Leaders in Heels readers' comments on what true leaders are like and my own thoughts and experiences about success, leadership and life. The manifesto is a road map to become a leader in every aspect of your life. And the notebook is the perfect format to share it with others as it is easily integrated into our everyday lives, and facilitate reflection and creativity.
It was a busy ten months to take the notebook from an idea to reality. Graphic design, content design, selecting quotes, coming up with assignments, and finding a printer, to name a few—but I loved every moment of it.
I run a successful crowd-funding campaign on Start Some Good, thanks to all the men and women out there who want to grow and develop more female leaders. Within 12 days I raised nearly $10,000 helping me kick-start my venture and provide over 300 notebooks to inspire more women. Now it's your turn.
Make Your Mark
Watch the video from the crowd-funding campaign.
I hope you enjoy MAKE YOUR MARK as much as I enjoyed creating it, and it inspires you to craft a brand new chapter in your life!Kasia Gospos
ORDER
Visit the online store to order a printed or PDF version of MAKE YOUR MARK, and put yourself or someone you love on the path to becoming an inspiring female leader today!
Buy PDF print at home
Buy Printed Notebook
tHANK YOU to my supporters
Individual Patrons that supported Make Your Mark campaign

Diana Ryall
Beata Adamczyk
Anna Minns
Business Patrons that supported the campaign
TravelGiver – www.TravelGiver.com & www.eShopGiver.com
Search Factory www.searchfactory.com.au
Me and My 1000 Girlfriends, That's Who! www.meandmy1000girlfriends.com
Harris Business Solutions www.harrisbussol.com.au
Fifty Acres www.fiftyacres.com
SalesPod www.salespod.com.au
Focused Mortgage Solutions
Silver Lining Business Solutions www.slbs.net.au
Special thanks to:
– My dearest friends, mentors and Leaders in Heels team: Nino Laygan, Leanne Yong, Patrycja Dziubek, Li Peng, Devika Mohotti, Ozlem Beldan, Laura Diakow, Arienne Gorlach, Diana Ryall, Simon Robson, Sally Miles, Ceci Jubilee (and more… I am pretty sure I missed someone) for their continuous feedback and lots of lots of patience
– Ozlem Beldan and Arienne Gorlach for sparking the creation of this notebook
– Ozlem Beldan (once again!) for coming up with the title idea
– Dan Alcantara (my NY respondent!), Patrycja Dziubek and Stephanie Game for their beautiful photos that were used in the notebook to feature the best quotes
– Rebecca Saunders and Zoltan Deak from Delicatessen for creating this awesome video
– Anna Jihad for her amazing graphic design and again lots of patience
– Yolanda Floro – I know you will do everything to make this campaign a success!
– Ozlem Beldan and Arienne Gorlach for co-authoring some of the pages of the notebook